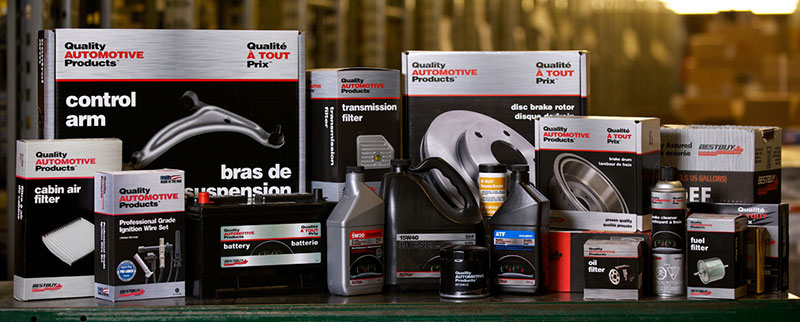 Bestbuy is a national organization with international ties and nowhere does this come through more strongly than with the company's suppliers. Two Bestbuy Distribution Centres, located in Mississauga and Edmonton, offer a wide range of National Brands and over 20 different product categories within two private label brands: Professionals' Choice and Quality Automotive Products™.
Bestbuy continues to expand our Quality AUTOMOTIVE Products™ line. Pictured above are some of the latest products you can order from the Bestbuy distribution centres to help bolster your profit margins. We are proud of the excellent standards we adhere to when finalizing all Quality AUTOMOTIVE Products™ – OEM specs and packaging.

Quality AUTOMOTIVE Products is Bestbuy's in-house brand and is steered by shareholder demand.
The current product listing includes:
Batteries
Brake Cables
Brake Cleaner
Brake Pads & Shoes
Brake Rotors & Drums
Chassis Parts
CV Boots
Engine Management
Filters: Oil • Air • Fuel • Cabin Air • Transmission
Hub Bearings
Ignition Wires
Oils & Greases: Data Sheets
PBE Products
Strut Mounts